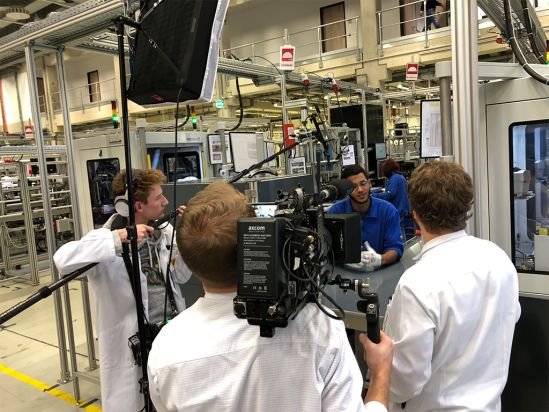 Innovative high-end technology
Made in Germany
Innovative high-end technology from BMZ. We intends to position itself as an international leader in the future market of mobile power supply on a lasting basis. And the German company has everything it takes to get there: its production processes are being optimised via innovative product ideas and systems expertise.
Automating the production of lithium-ion batteries paves new ways for more productivity, it increases process security and reduces labour costs. The cells for the batteries are pretested in the production line. By using the welding robot, the welding, soldering and automatic encapsulation steps at BMZ are carried out automatically.
The soldering system guarantees precise soldering with a consistent level of quality. The encapsulation unit ensures increasing productivity.
Subsequently, a final check will be carried out. Due to the automated process, the welding unit is used more efficiently. This leads to a lower "parts per million" (ppm). Parts per million is defined as the millionth part of a unit.
Have a lot of fun with the video!